Bell V-280 Valor | how unmanned helicopters are taking modern warfare to the next level
Touted to be the only FVL (future vertical lift) weapons system with the flight-proven agility, speed, range and endurance for the Future Long-Range Assault Aircraft mission, the Bell V-280 Valor is a tiltrotor aircraft being developed by Bell and Lockheed Martin for the US army.
The V-280 derives its name from its cruising speed of 280 knots (320 miles per hour)-nearly twice the maximum speed of an average military helicopter.
Tech and specifications
Combining the speed and range of a turboprop, with advanced agility greater than a traditional helicopter, the Bell V-280 Valor offers better flight performance and lifecycle sustainability.
The V-280 has "the element of surprise and survivability, coupled with an ability to show low-speed agility within the landing zone. You get the best of a helicopter and the best of a turboprop airplane. You can start in helicopter mode and then convert the rotors out onto the wings. Riding the wings is what can really make a difference and give you speed and range

A senior Bell developer told the National Interest
Validated by numerous flight tests, the aircraft demonstrates exceptional raw control power in pitch, roll, and yaw manoeuvres, performing at the highest standards for agility.
Fixed engine nacelle design translating to reduced manufacturing costs, better performance, maintainability and sustainability – all designed to reduce warfighter workload.
It differs from the earlier V-22 Osprey tiltrotor in that the engines remain in place while the rotors and drive shafts tilt. It also boasts a greater combat range of 520 to 920 miles, depending on loadout.
| | |
| --- | --- |
| Crew | 4 |
| Capacity | 14 troops |
| Length | 50.5 ft (15.4 m) |
| Height | 23 ft 0 in (7 m) |
| MTOW | 30,865 lb (14,000 kg) |
| Powerplant | 2 × General Electric T64 turboshaft |
| Propellors | 35 ft 0 in (10.7 m) diameter |
| Combat range | 580–920 mi (930–1,480 km) |
| Service ceiling | 6,000 ft |
| Cruise speed | 320 mph (520 km/h) |
Wikipedia
The V-280 has achieved several milestones ever since its maiden flight in 2017.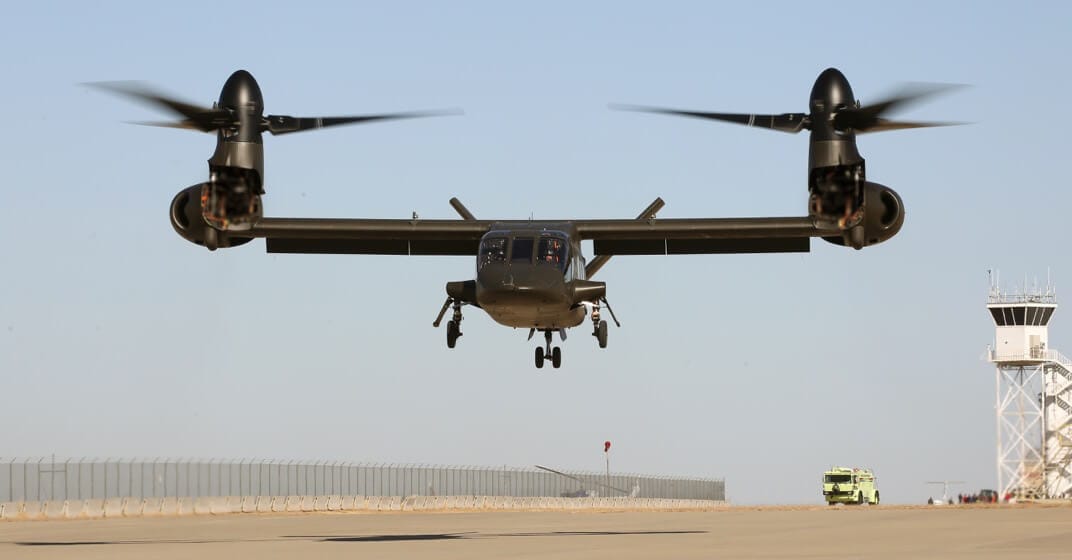 A brief timeline of its test flights
In April 2018, it ran for 75 hours on the ground and flew for 19 hours, attaining 80 knots, before transitioning to airplane flight by the end of the month.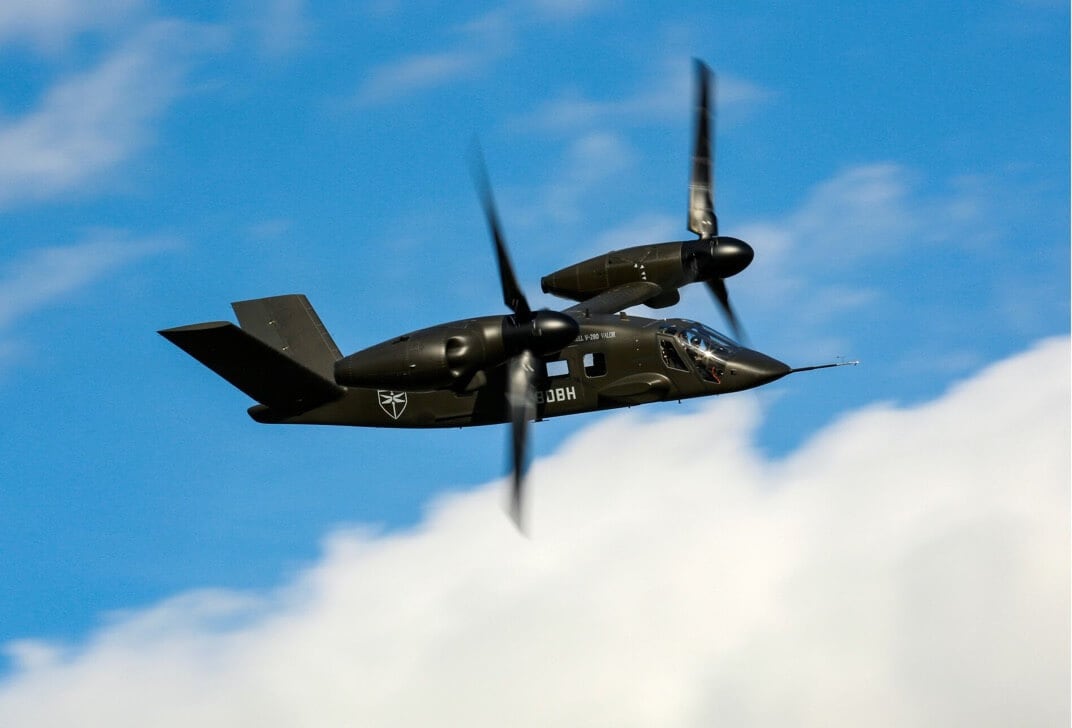 By October 2018 it had reached 250 kn, after 155 hours of rotor turn time and 70 flight hours.
After about a year of flight years, it finally reached its 280-knot mark in January 2019.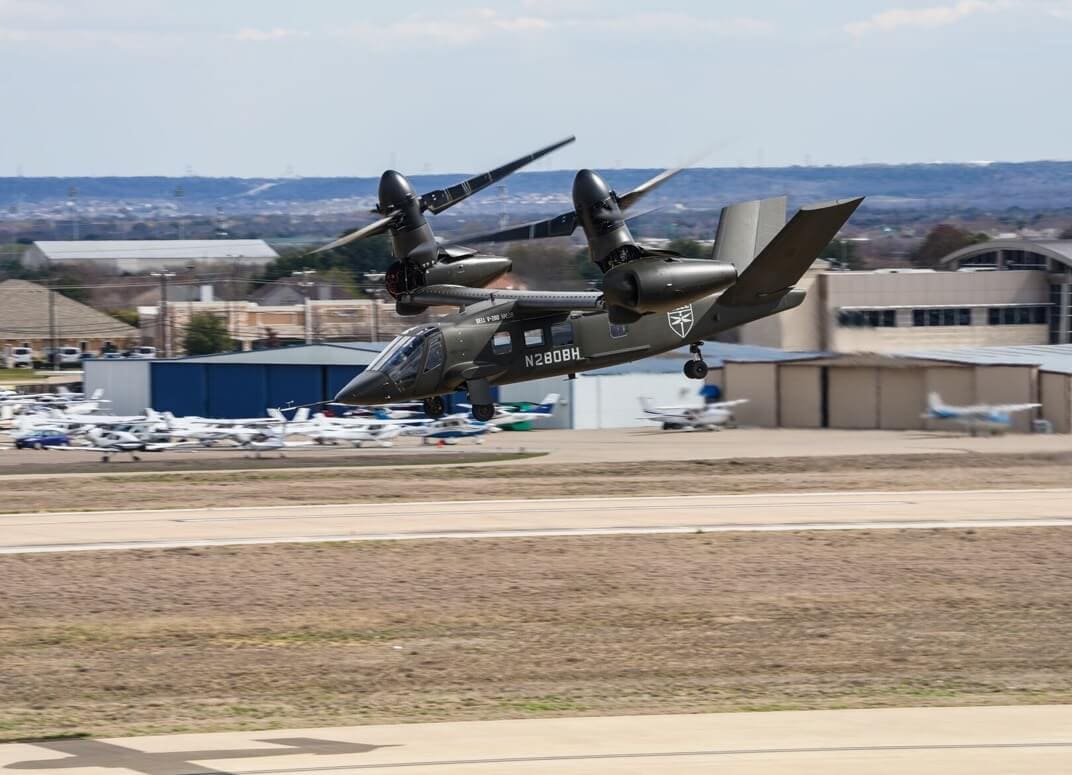 In December 2020, the V-280 reached 305 kn, after having flown for over 200 hours.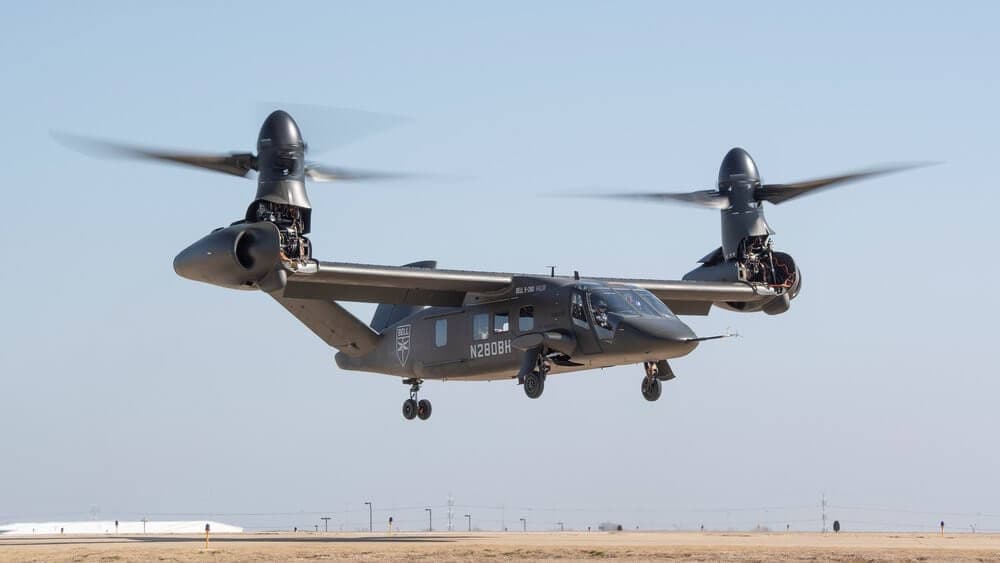 Artificial Intelligence taking over flight crew
In December 2019, Bell showcased the V-280 Valor tilt-rotor demonstrator aircraft, which accomplished an entire test mission solely based on computer algorithms and sans human input(s).
The following tasks were performed by the software which would otherwise be normally expected in routine non-combat missions without human input, although a human operator would be present onboard:
Vertical take-off in "helicopter" mode, with the V-280's propellers, tilted upward serving as rotors.
Transitioning the rotors to horizontally oriented "airplane mode" with greater speed and fuel efficiency.
Cruising towards multiple waypoints in horizontal flight mode and hovering above a certain waypoint
Tilting the rotor back to vertical and landing helicopter-style at a destination
Reportedly, further tests would likely be successful in seamlessly integrating those tasks in one continuous autonomous flight operation.
Although notorious for crashes and being a bit on the higher side when it comes to costs, tiltrotors combine the manoeuvrability and vertical takeoff and landing abilities of a helicopter with superior speed, high-altitude performance and fuel efficiency of a fixed-wing airplane.
If the company's tests are anything to go by, it is only suggestive of the fact that unmanned capabilities may increasingly become a standard feature in platforms that aren't even intended for use as drones in the first place.
SOURCE(s)
COVER: Bell Flight