Bombardier Global 8000 breaks the sound barrier in tests – Here's what we know
Can commercial planes go supersonic?
The Canadian plane manufacturer, Bombardier, has now confirmed the launch of its new business jet, the Global 8000. Touted to restore supersonic passenger flights nearly two decades after Concorde's retirement, the news comes as a ray of hope for all the supersonic travel buffs.
The world's first supersonic commercial aircraft, the Concorde flew for the first time in 1976 although planes could go supersonic only over the ocean back then. This kept the potentially lucrative overland routes off-limits thereby severely restricting supersonic travel's business prospects.
Reportedly, the news comes after a Global 7500 test vehicle broke the sound barrier during a demonstration flight last May, achieving speeds of more than Mach 1.015. Consequently, the G7500, which was accompanied by a NASA F/A-18 chase plane, became the first Transport Category airplane to fly supersonic with sustainable aviation fuel (SAF)-according to Bombardier.
The Global 8000 aircraft leverages the outstanding attributes of the Global 7500 aircraft, providing our customers with a flagship aircraft of a new era

Éric Martel, president and CEO of Bombardier, said in a statement made on Monday
Global 8000 | Bombardier
Tech and specs
Touted to be "the world's fastest and longest-range purpose-built business jet", the Global 8000 is projected to clock an unbeatable top speed of Mach 0.94—the fastest ever in business aviation.
| | |
| --- | --- |
| Top speed | 0.94 M |
| Take-off distance | 5760 ft |
| Landing distance | 2237 ft |
| Maximum operating altitude | 51,000 ft |
| GE Passport Thrust | 18,920 lbf |
Range
With an industry-leading range of 8,000 nautical miles, the Global 8000 business jet unlocks tens of thousands of popular city pair possibilities—including new ultra-long-range routes, such as Dubai to Houston, Singapore to Los Angeles and London to Perth, among many others.
STOL
The Global 8000 also delivers the longest range from even the shortest runways and in all weather conditions- all thanks to its innovative GE Passport engines and its revolutionary Smooth Flĕx Wing.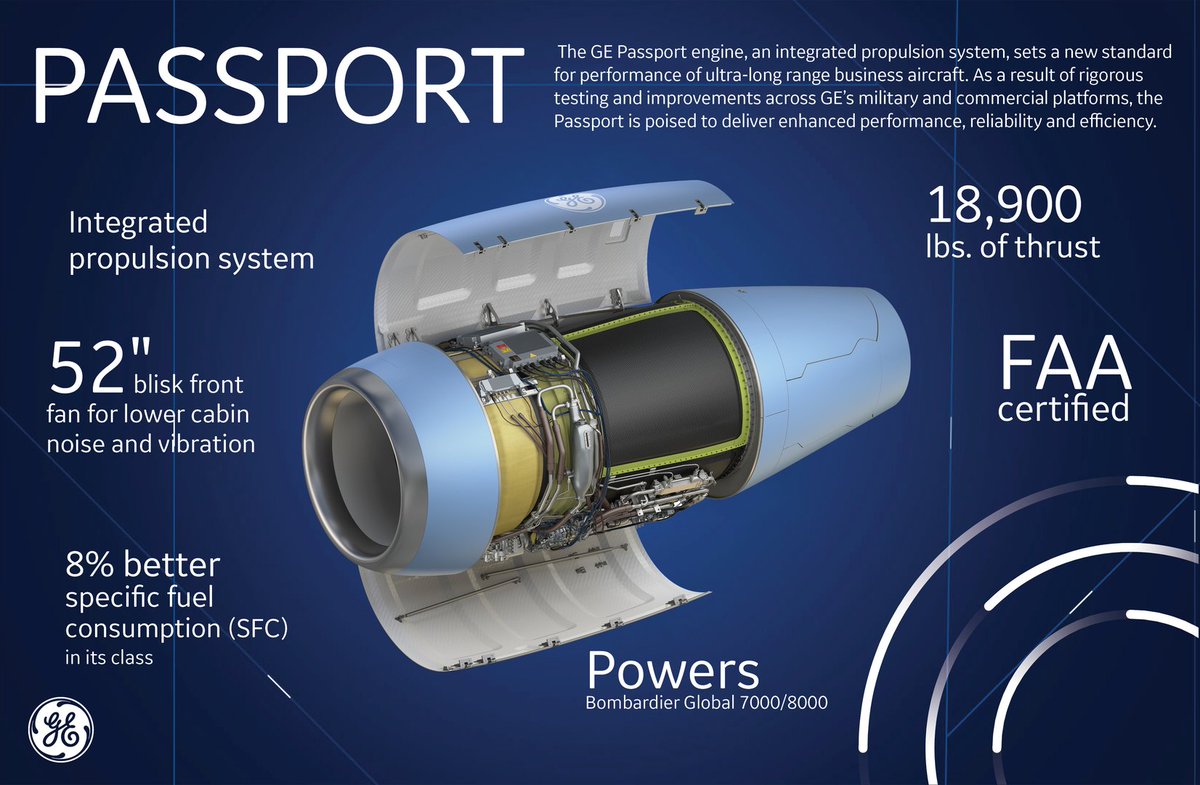 The Smooth Flex-Wing is engineered like two wings in one: a high-lift wing for exceptional low-speed agility and a high-speed wing for unrivalled speed and range.
Cabin features
With a cabin altitude of 2,900 feet, the jet features the industry's lowest cabin altitude to help feel more comfortable, especially on long-distance flights.
The Nuage seat is the first new seat architecture in 30 years with the industry's first zero-gravity seating position designed for physical wellbeing and effortless comfort.
Bombardier's Soleil lighting system is aviation's first circadian rhythm-based cabin lighting fully integrated into the Flight Management System with a revolutionary Dynamic Daylight Simulation feature to help combat jet lag.
The cutting-edge nice Touch cabin management system is designed exclusively for the Global 8000 aircraft. Elegant and intuitive, the nice Touch system's unique OLED touch dial control allows you to adjust a host of cabin settings quickly and comfortably.
Its been almost two decades since the Concorde was retired and the Global 8000 is one of the many projects ongoing in the industry aimed at increasing the speed of commercial aircraft.
According to Bombardier, the Global 8000 is scheduled to enter service in 2025.
SOURCE(s)
COVER: FlightGlobal