Domestic air passenger traffic jumps 57% MOM as per ICRA
Domestic air passenger traffic jumped 57% to around 49 lakh in July, reflecting a significant sequential as well as year-on-year growth amid a decline in coronavirus infections, according to a report. Recording continued recovery, traffic rose 56-57% to 48-49 lakh in July compared to June this year when it was about 31.1 lakh. As against June 2020, the growth is 132%, the rating agency ICRA said in the report on Thursday (August 5, 2021).
ICRA (Investment Information and Credit Rating Agency) said that airlines' capacity deployment for July was around 90% higher than in July 2020. There were around 47,200 departures last month compared to 24,770 departures in the year-ago period. On a sequential basis, it said the number of departures in July 2021 was higher by around 49% as COVID infections demonstrated a downward trajectory.
Kinjal Shah, Vice President & Co-Group Head at ICRA, said that for July 2021, the average daily departures were at around 1,500, significantly higher than the average daily departures of about 800 in July last year. In June this year, it was at about 1,100. "The average number of passengers per flight during July 2021 was 104, against an average of 98 passengers per flight in June 2021.
"Though the recovery continued in July 2021, there is continued stress on demand, driven largely by the second wave of the pandemic, limiting travel to only necessary travel, while both leisure and business travel have been curtailed due to various state-wide restrictions, despite the decline in infections," she noted.
The below data shows Day-wise traffic in India for July 2021. Momentum being lost in the second half, where flight count went up but passenger numbers did not go up in proportion.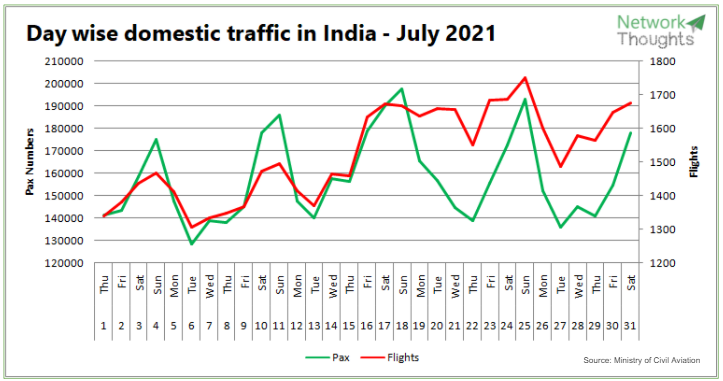 According to ICRA, rising Aviation Turbine Fuel (ATF) prices pose a near-term challenge for the airlines. ATF prices in India effective 01-Aug-2021 INR 69,136.47 per KL in Delhi Prices are up 1% over last month, up 57% over last August Domestic capacity in India is capped at 65% of pre-pandemic levels Rupee has strengthened 0.74% to dollar.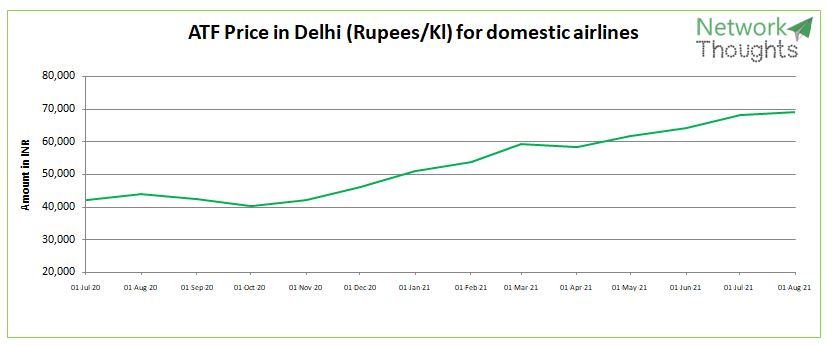 Highest single-day jump
After 110 days, the domestic passenger traffic had crossed the 2 lakh mark. The flight count, too, had crossed the 2000 mark.
At 2,065 flights across airlines, the departure count stood at 65% of pre-COVID levels and with 269,713 passengers—air traffic was at 62% of pre-COVID levels with the highest per flight occupancy since restarting of services. This also is the highest single-day jump in air traffic from 177,928 on July 31 to 269,713 on August 01 respectively.
This happened because airlines are under strict regulations since air traffic restarted on May 25, 2020. While not the best practice to tinker with the free market economy, the existing laws in the country do allow the setting up of such floor and ceiling prices for a fare.
In the past, airlines received a circular on fare caps at least 15 days before the start of a month. But in August, there was a delay in issuing the circular—after the last one lapsed on July 31—and airlines used this window to sell tickets at prices of their choice.
They effectively sold seats at fares of their choice—driven by market dynamics, demand and competition—and not by the minimum fare prescribed by the government. The circular on the fare cap however was reinforced on Sunday (August 1) night.