India's own "loyal wingman" project to take off by 2024 – Developments so far
In what can be termed a historic achievement for the country, India will soon be joining the likes of the United States, the United Kingdom, Australia, and Russia, to enter an elite group of countries boasting of fifth-generation stealth fighter jets with high-tech drones to accompany them.
The Combat Air Teaming System (CATS) 'Warrior'
The CATS Warrior program is a collaboration between the state-owned HAL and an Indian private startup Newspace R&D. The project commenced in 2018 and was announced at Aero India 2021 as the Combat Air Teaming System (CATS) 'Warrior.'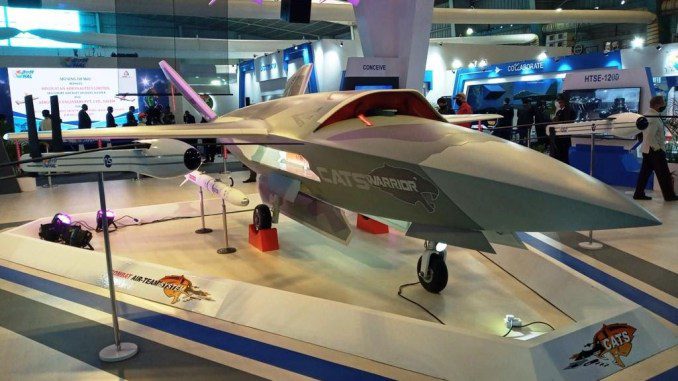 A low-cost, pilotless aircraft with sufficient flight capability and intelligence to help manned and advanced fighter jets in combat is known as a loyal wingman. The CATS Warrior bears an uncanny resemblance to the Kratos Valkyrie and Boeing's Air Power Teaming System (ATS).
Primarily envisioned for the Indian Air Force, the CATS warrior will be an autonomous wingman drone and will team up with the existing fighter platforms of the IAF like Tejas, Su-MKI 30 and Jaguar, all of which will act like its mothership. These drones would be carrying mission-specific payloads, such as sensors, armament, or electronic warfare capabilities, and would be capable of flying ahead of their crewed counterpart.
Warrior will serve as a 'sensor amplifier' for the LCA, flying out ahead of the manned aircraft and using its sensors to feed information back to LCA

HAL test pilot Retd Group Captain H.V. Thakur
Additionally, these "unmanned aircraft" can be deployed as low-cost decoys to help detect and overwhelm enemy air defences, and deflect fire from crewed fighter crafts as well. Owing to its "unmanned" nature, it can be sacrificed in case it cannot be flown back within its combat radius of 350 km. Furthermore, these drones could intercept targets on the ground and in the air.
A striking difference between CATS and its rival western programs is the emphasis on AI control. Although HAL has pitched for the drones to be capable of autonomous take-off and landing, the existence of dedicated two-seater control aircraft subtly hints that the "Warrior" might be, in some capacity, piloted.
Tech and specs (Warrior drone)
Powered by a modified HAL PTAE-7 or HAL-HTFE-25 turbofan engine, it features an internal weapon bay & hybrid design whose front section looks like a Boeing ATS wingman & from its mid-fuselage to its tail like the Kratos X2-58 Valkyrie.
Length
9.2 m (30 ft 2 in)
Wingspan
5.8 m (19 ft 0 in)
MTOW
2,100 kg (4,630 lb)
Maximum speed
Mach 0.9
Cruise speed
790 km/h (490 mph, 430 km)
Range
1,500 km
Combat range
700 km
Missiles
Air to air missiles
Precision guided munitions
ASRAAM
Wikipedia
It will be equipped with an electro-optic/infrared payload, active electronically scanned array (AESA) radar, inertial navigational unit, and a jammer for intelligence, surveillance, reconnaissance and combat operations.
Furthermore, the exhaust will feature a chevron nozzle design to reduce jet blast & radar emissions.
Reportedly, the Warrior is undergoing wind-tunnel testing and flight testing is expected in 2024. The engine is expected to be certified by 2025.
"Loyal Wingman" developments around the world
On April 29 2021, the US Air Force carried out the first flight test of a "Skyborg" drone with a Kratos UTAP-22 Mako equipped with a bespoke autonomy system, moving the service one step closer to fielding an uncrewed "loyal wingman" for human pilots.
In September 2019, Russia announced the successful completion of a Su-57 fifth-generation combat aircraft and an S-70 Okhotnik unmanned aerial vehicle, test flight.
China unveiled the long-range 'FH-97 drone', last year- touted to carry a variety of weaponry with the swarm and electronic warfare capabilities.
Australia, in collaboration with Boeing, completed successful test flights of its loyal wingman aircraft, dubbed "MQ-28A Ghost Bat", in March 2021.
SOURCE(s)
COVER: INFOTONLINE