Is there an alternative to the physical "black box"?
June 2009- Air France Flight 447, with 228 passengers and crew onboard, disappeared somewhere over the Atlantic Ocean. The search and rescue program was called off after a month of intensive deep-sea search led to zero results. The batteries on the flight data recorders' underwater locator beacons were assumed to be dead. Nevertheless, the black box turned up two years later, following further mapping of potential flight paths.
19 May 2016- an EgyptAir Flight 804, from Paris Charles de Gaulle Airport to Cairo International Airport, plunged into the Mediterranean Sea with 66 onboard. The aircraft operating was an Airbus A320 and although the black box was recovered a month later, the data extracted proved to be inconclusive.
The disappearance of Malaysia Airlines Flight 370 from the radars on 8 March 2014, happens to be, and still remains one of the most baffling mysteries in aviation today.
The very recent crash of a Boeing B737-800, operated by China Eastern airline, with 132 onboard- touted to be the worst crash ever in the history of Chinese aviation has got the investigators on their toes in cracking the true cause of the accident. The black box, although recovered, is damaged way beyond recognition and it will take the best minds in the business and technology to extract useful data from it (if any).
These events have stirred, and undoubtedly so, a debate on the usefulness of flight recorders that are physically attached to an airplane. At a day and age, when locating a lost cell phone from halfway around the world is a piece of cake, the idea of flight recorders whose data can't be accessed remotely seems to be unfitting, and rightly so.
The "Black Box in the cloud" concept
Honeywell Aerospace, the global leader in providing the aviation industry with traditional black boxes for over 60 years now, has collaborated with Curtiss-Wright Corp to reinvent the aircraft cockpit voice recorder (CVR) and flight data recorder (FDR) using inflight connectivity. Apparently, the company has worked on "triggered black box transmissions" and "true streaming" throughout the flight with its new Connected Recorder-25, which uses Curtiss-Wright's recently certified Fortress hardware – a 25-hour CVR/FDR recorder – as its foundation.
Triggered Transmission(s) is a system by which certain parameters are transmitted only when sensors detect something has gone awry. So if an airliner's altitude or airspeed suddenly changes, its special transmitter automatically starts sending live data via satellite to the ground.
We look at it a lot of different ways. One option is to set "a data frame and a frame rate that makes sense until a certain event, and then you accelerate it. It's kind of like, 'hey you're pulling a whole chunk of data every five minutes or every 15 minutes, then all of a sudden an event occurs and you'll be pulling it every 100 milliseconds. Another way is why not take a subset of the data and take that as a continuous stream? And that's another method

said Honeywell Aerospace vice president and general manager, software and services John Peterson in reference to taking black boxes from their present passive state to a real-time connected solution
At the moment however, there are certain regulatory constraints to cross, before real-time black box transmissions over cabin connectivity can be implemented.
The company is optimistic that Honeywell's Connected Recorder-25 hardware will surpass the requirements of the European Aviation Safety Agency (EASA) minimum 25-hour cockpit voice recording mandates, supporting more efficient operations.
With the new regulatory requirement, we saw an opportunity to evolve our recorder technology to not only meet the conditions of governing agencies, but also make this product more powerful and better connected, providing aircraft operators with another source of data collection that can be used to improve aircraft maintenance and performance

said Honeywell president, services and connectivity Ben Driggs
Qatar Airways apparently, has been doing this for quite some time now.
Yeah, we're already doing this. As a matter of fact, we are doing this for nearly a year. All the data that is being transmitted by aircraft, we are collecting all the data and we have in our OCC [operations control center] three individuals sitting and monitoring every single flight of Qatar Airways. The systems on the ground are receiving data from the aircraft every five seconds. Every fifteen seconds, the OCC individuals will chart those flights and, if there is the slightest deviation, they will receive an ACARS message to explain why this diversion or deviation from the established flight plan happened. All the data from the airplane is constantly transmitted on the ground and is recorded in our operations control center

Qatar Airways CEO Akbar Al Baker in reference to the carrier's streaming of flight data recorder (FDR)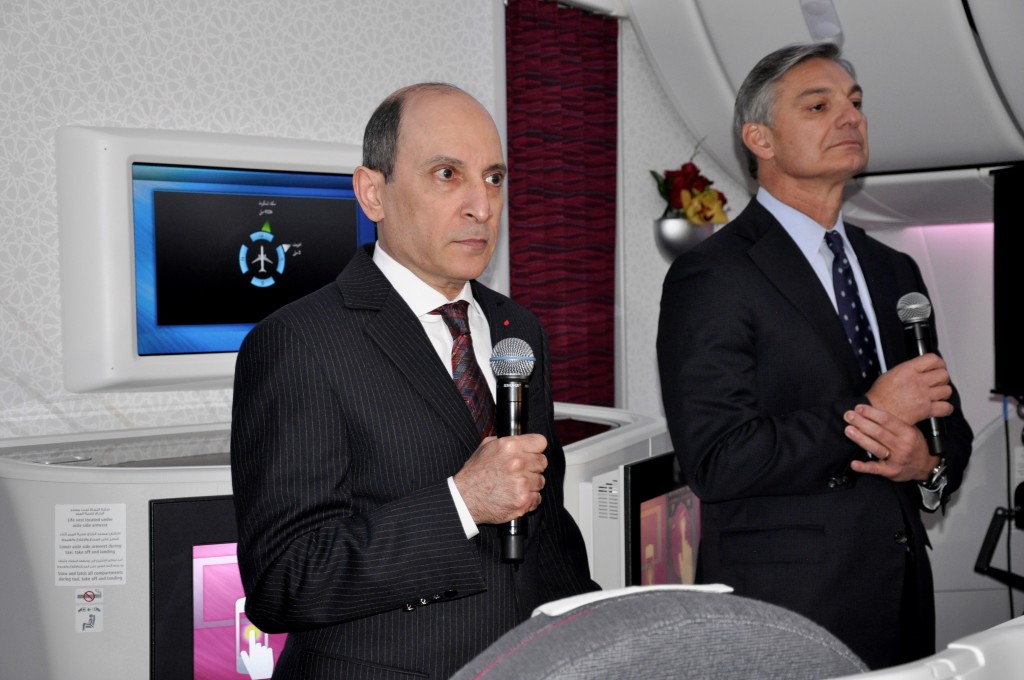 Inmarsat's SwiftBroadband aeronautical service currently provides inflight wifi on Qatar's Boeing 787s and Airbus A350s.
Reportedly, an automated flight information reporting system (AFIRS) is already in place on 350 aircraft- touted as a cost-efficient solution for transmitting data from flight data recorders. AFIRS is an Iridium-based SATCOM device that transmits data to the ground in real time, where it is then processed and distributed to subscribers through FLYHT's (Calgary-based) ground server network. The service offers the same data acquired by the airplane's flight recorder, providing carriers with up-to-the-minute information if there's an emergency or, more generally, with data about how their airplane is performing.
Will these upcoming technologies replace traditional black box? Likely not. They will supplement traditional flight recorders at best and for the time being, the black box is here to stay.
SOURCE(s)
COVER: Via Satellite