Pratt and Whitney conducts a successful engine test on 100% sustainable aviation fuel
In what can be described as a critical element of an extensive development program for the unveiling of the "GTF Advantage" engine, Pratt and Whitney have performed a successful test on the engine on 100% sustainable aviation fuel.
We're thrilled to have successfully tested the GTF Advantage engine on unblended SAF. The GTF Advantage represents the greenest, lowest emission engine in the industry, and it is now demonstrating full operational capability for the greenest aviation fuels of today and tomorrow. Operation on 100 percent SAF is a key component of the industry's commitment to net zero carbon emissions by 2050 and the completion of these tests get us closer to that goal.

Graham Webb, Chief Sustainability Officer at Pratt & Whitney
PRATT & WHITNEY GTF ADVANTAGE™ ENGINE
Since entering service in early 2016, GTF engines have saved operators more than 600 million gallons (more than two billion litres) of fuel and avoided more than six million metric tonnes of carbon emissions. With more than 1,100 aircraft, 58 airlines and three aircraft families – Airbus A320neo, Airbus A220 and Embraer E-Jets E2 – GTF engines have also reduced noise footprint by 75% and regulated emissions by 50% to the CAEP/6 regulatory standard.
Specifically designed for the A320 neo family, it boasts of:
Enhanced sustainability:
Up to 17% lower CO2 emissions vs. prior generation engines like V2500
Compatible with 100% SAF 
2. Improved operating costs
Sea level takeoff thrust up to 34,000 pounds per engine 
Significant improvements in high altitude take-off thrust 
3. Enhanced reliability:
Builds on mature dispatch reliability of 99.97% 
Delivers more thrust at lower temperatures
Extensive endurance testing for high durability 
4. Ease of airline operations:
new model engines can replace base model engines, and vice versa, giving airlines ultimate flexibility in their operations. 
aircraft will be able to operate one of each configuration. Advanced software will make this invisible to the pilots, delivering maximum efficiency no matter the pairing. 
This new configuration delivers higher thrust, both at sea level and for "hot and high" airports, thereby making it the most powerful engine for the A320neo family.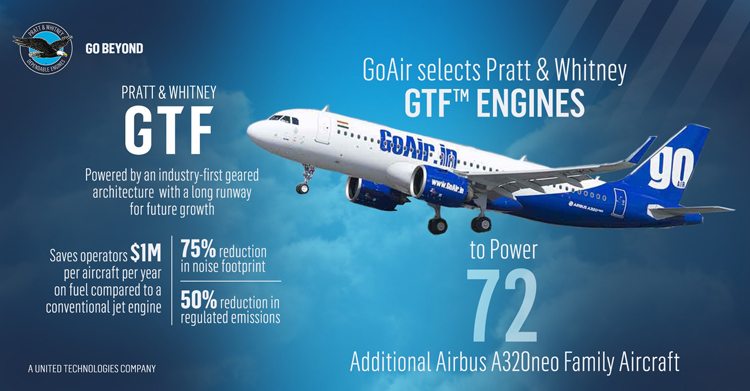 Sustainable aviation fuels are central to the challenge of decarbonizing aviation and reaching our industry's net zero goal. Validating and certifying the GTF Advantage engine on 100 percent SAF will ensure this engine's ability to deliver sustainable propulsion to our customers over many decades of service. We remain dedicated to working with the industry on creating a viable path for SAF development, production and distribution

Sean Bradshaw, technical fellow for sustainable propulsion at Pratt & Whitney said
Reportedly, the SAF used by the company is 100% Hydroprocessed Esters and Fatty Acids Synthetic Paraffinic Kerosine (HEFA-SPK) fuel acquired from World Energy.
HEFA-SPK is a specific type of hydrotreated vegetable oil fuel used in aviation and is considered a leading alternative replacement for conventional jet fuel by CAAFI due to the sustainability of its feedstock
Touted to extend its lead as the most efficient and most powerful engine choice for the A320neo family, the engine is slated for a 2024 entry into service.
SOURCE(s)
COVER: Asian Aviation