Vistara on verge of overtaking SpiceJet to gain the top spot in market share of Indian aviation
The market share of Indian airlines in the Indian aviation sector has seen a shift over the last year as the competition has heated up in a scenario of less demand and more supply.
While the domestic civil aviation traffic crossed the pre-pandemic levels of around 4 lakh daily air passengers, the numbers have not been able to hold. Currently, the traffic is holding at around 70 to 75% of the pre-pandemic levels.
With new players like Akasa Air and Jet Airways 2.0 ready to start operations, there is a cutthroat competition to gain the top spot in the market share of Indian aviation.
In this background, the airlines in India, whether full-service or low-cost carriers have tried to engage as many passengers as possible to develop a decent revenue environment.
In terms of fleet size among Indian airlines, IndiGo leads with 283 airplanes, followed by Air India at 116 aircraft, SpiceJet at 87 aircraft, Go FIRST at 57 planes, Vistara at 56 aircraft, AirAsia India at 28 planes and Alliance Air at 19 aircraft.
Vistara, the joint venture between Singapore Airlines and Tata Group, has emerged as an outperformer in the race as its market share has risen to 9.4% in June as compared to 8.6% in May 2022 and 7.2% in June 2021. This is Vistara's second-best performance as the highest market share for the airline was at 9.7%, which was secured in February 2022.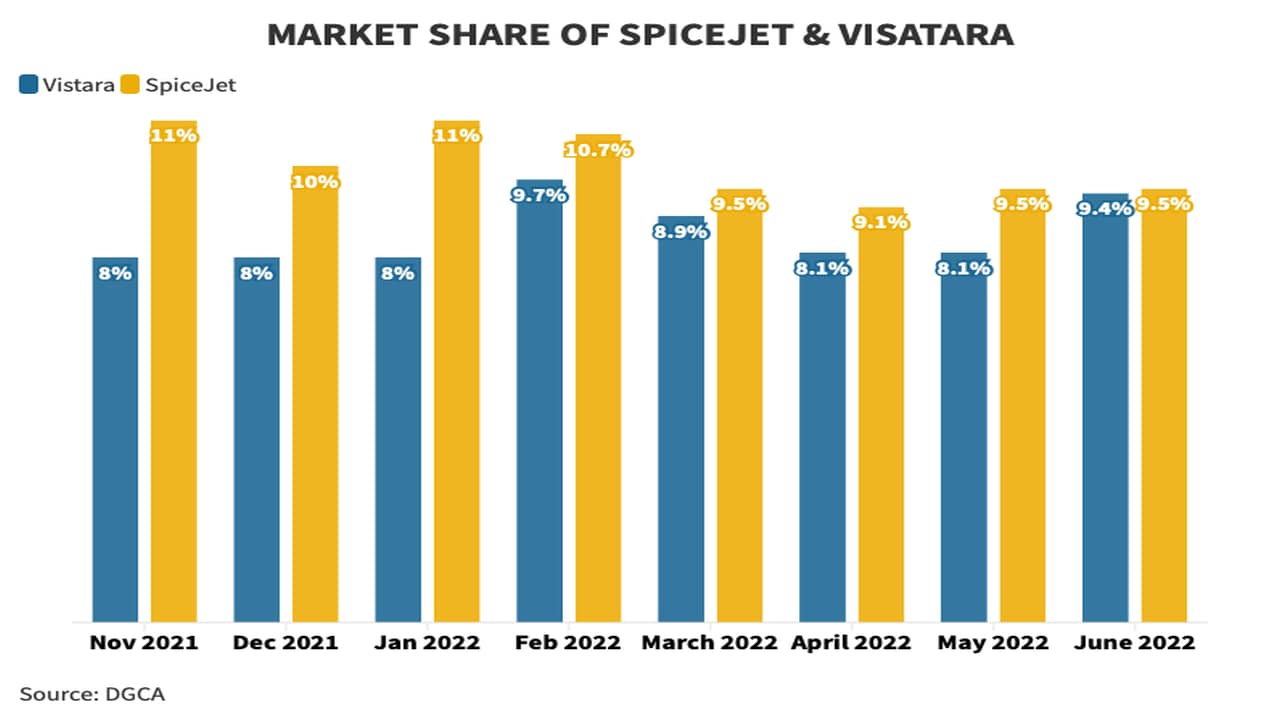 SpiceJet, which witnessed a spike in technical snags over the last two months, saw a drop in market share in June to 9.5% from 10% in May. On a yearly comparison, the airline had a market share of 9% in June 2021.
IndiGo, the largest Indian carrier, has shown an increase in its market share in June at 56.9%, up from 55.6% in May 2022 and also rising on year from 54.7% in June 2021.
ALSO READ – Global airline executives believe that only Tatas can revive and increase the market share of Air India
For the other Tata airline, Air India, the ride has been rather bumpy in terms of market share. While the airline has seen a bit of an increase in market share from 7.2% in May to 7.5% in June, the drop has been significant as compared to 10.2% in January 2022 and 10.6% as of December 2021.
The third airline under the Tata umbrella, AirAsia India, witnessed a drop in its market share to 5.6% in June from 6% in May. However, on a yearly comparison, the airline has shown an improvement in market share from 3.4% in June 2021.
ALSO READ – Go First grounds over a fifth of its fleet due to delayed deliveries of engines by Pratt & Whitney
Go First, the airline which is struggling to utilise its full fleet size due to delays in engine deliveries for its A320neos, also saw an impact in market share. It fell to 9.5% in June from 11.1% in May 2022. However, the share has increased from 8.3% in June 2021.
(With Inputs from CNBC TV18)