India's indigenous combat drone well on track to user-evaluation trials later this year
Having made its first flight in November 2016, HAL is now gearing up to produce five TAPAS MALE UAV drone for user validation trials, which would tentatively start in October 2022.
Apparently, eight prototypes of the TAPAS UAV have been built so far and the platform has completed 143 test flights- something which has been confirmed by sources in Hindustan Aeronautics Limited (HAL) and the Aeronautical Development Establishment (ADE).
We are currently in the process of design validation. The final design configuration will be frozen in June or July

an ADE source said
Reportedly, out of the five UAVs which will be prepared by the HAL for evaluation by the military, ADE will integrate the first two aircraft while the remaining three UAVs will be integrated by HAL.
This is to help HAL acquire expertise in the platform

the ADE source said
It further mentioned that HAL will also be the beneficiary of a transfer of technology for the future production of the platform.
All five aircraft are expected to be delivered by HAL in April 2023.
Tactical Airborne Platform for Aerial Surveillance (TAPAS)
Formerly referred to as "RUSTOM II", the Tactical Airborne Platform for Aerial Surveillance, is a Medium Altitude Long Endurance (MALE) unmanned aerial vehicle (UAV) being developed in India by the Aeronautical Development Establishment (ADE) on the lines of General Atomics MQ-1 Predator.
Rustom-2, the next-generation version of its predecessor Rustom-1, is equipped with enhanced aerodynamic configuration, digital flight control, navigation system, communication intelligence medium and long-range electro-optic payloads and synthetic aperture radar that will enable it to see through the clouds.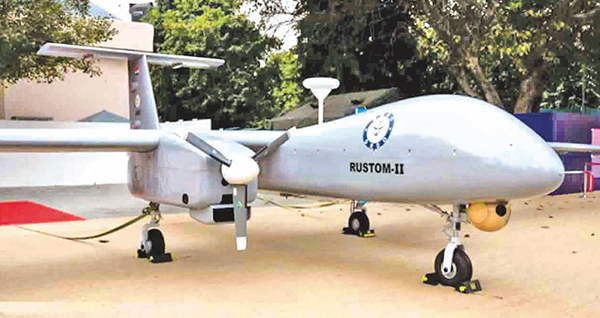 Powered by twin NPO-Saturn 36MT turboprop engines, it is also capable of carrying different combinations of payloads depending on the mission objectives including electronic intelligence systems and situational awareness systems.
Tech and specs
| | |
| --- | --- |
| Capacity | 350 kg payload |
| Length | 31 ft 2 in |
| Propellers | 3-bladed constant-speed propeller |
| Maximum speed | 224 km/h |
| Range | 1,000 km |
| Endurance | 24 hours |
| Service ceiling | 10,668 |
| Empty weight | 1,800 kg |
Wikipedia
Featuring automatic takeoff and landing makes it comparable to some of the best in the world.
The drone can loiter autonomously at high altitudes performing real-time, high-resolution intelligence, surveillance and reconnaissance with its SAR and EO sensors. When a target is identified, it will either illuminate the target with a laser designator for other strike aircraft or descend to a lower altitude and attack the target with its air-to-surface missiles.
Aircraft of comparable configuration and performance (same era)
DRDO Rustom-1
IAI Heron (Israel)
SOURCE(s)
COVER: Full Afterburner