Inside the nuke-proof "Doomsday" Boeing 747 E-4B – Here's all you need to know
As the Russian aggression progresses towards advanced stages, with the country putting its nuclear arsenal on high alert, the possibility of Russian-triggered nuclear warfare is now high as ever.
The Russian officials have left no stone unturned to warn the world of their nuclear prowess and while that may be true to an extent, their western counterparts have denounced those claims as an attempt to shift attention away from the war crimes committed on the Ukrainian soil.
If anything, a so-called "nuke-proof" aircraft have been seen circling over the UK in the past few days.
Referred to as the "doomsday plane" by many, the NightWatch aircraft is accompanying Joe Biden, who is currently on a trip to Europe.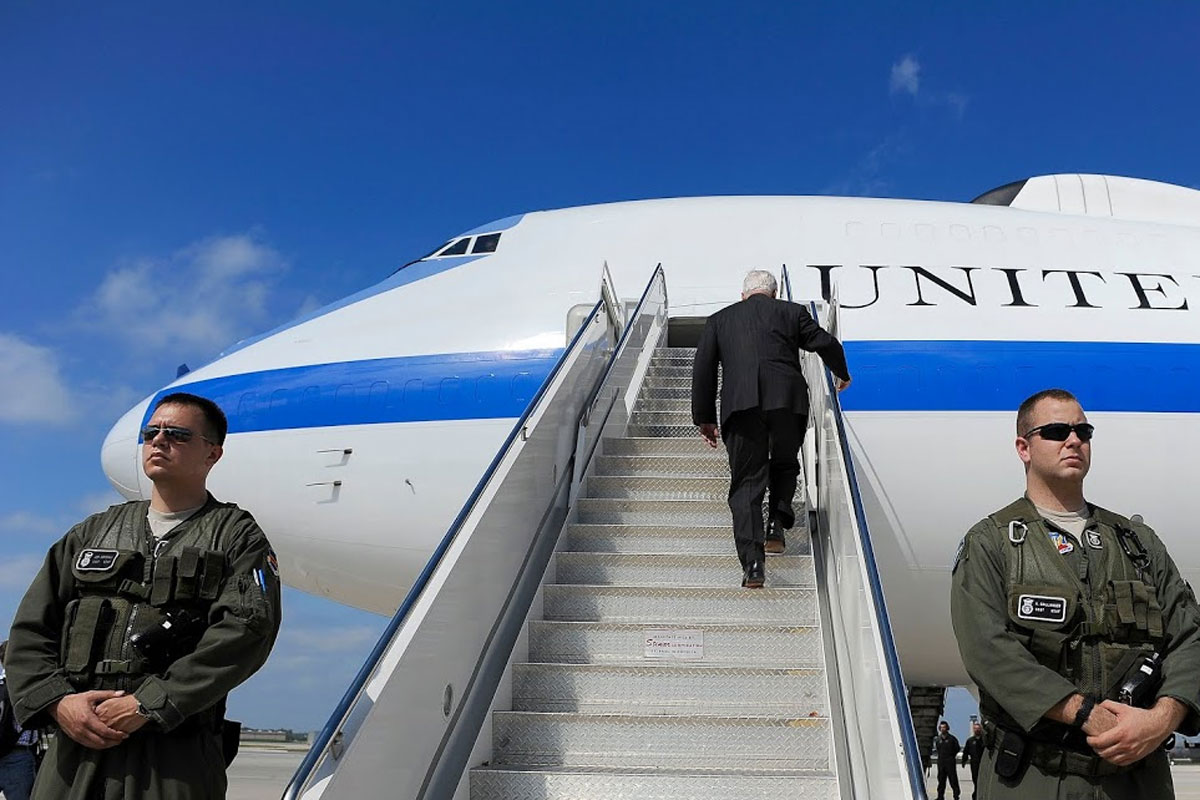 As eerie as it may sound, here's everything you need to know about "Doomsday".
The Boeing E-4B Doomsday
Sometimes also referred to as the "Flying Pentagon", The Boeing E-4 Advanced Airborne Command Post (AACP), the current "Nightwatch" aircraft,  serves as the National Airborne Operations Center and is a key component of the National Military Command System for the President, the Secretary of Defense and the Joint Chiefs of Staff.
The name "Nightwatch" originates from the richly detailed Rembrandt painting The Night Watch, which depicts local townsfolk protecting a town; it was selected by the Squadron's first commanding officer.
The E-4B is a militarized version of the Boeing 747-200. It is a four-engine, swept-wing, long-range high-altitude aeroplane with in-flight refuelling capabilities and can theoretically stay airborne for a week in emergencies, although the longest test flight so far completed clocked in at around 35 hours.
| | |
| --- | --- |
| BUILDER | Boeing Aerospace Co. |
| POWERPLANT | 4 * General Electric CF6-50E2 turbofan engines |
| THRUST | 52,500 pounds each engine |
| LENGTH | 231 feet, 4 inches (70.5 meters) |
| WINGSPAN | 195 feet, 8 inches (59.7 meters) |
| HEIGHT | 63 feet, 5 inches (19.3 meters) |
| MTOW | 800,000 pounds (360,000 kilograms) |
| ENDURANCE | 12 hours (unrefueled) |
| CEILING | above 30,000 feet (9,091 meters) |
| UNIT COST | $223.2 million (fiscal 98 constant dollars) |
| DATE DEPLOYED | January 1980 |
| INVENTORY | active force, 4; Air National Guard, 0; Reserve, 0 |
www.af.mil
The main deck is divided into six functional areas: a command work area, conference room, briefing room, an operations team work area, communications area and rest area. The flight deck contains stations for the pilot, co-pilot, and flight engineer, plus a special navigation station not normally found on commercial Boeing 747s.
An E-4B may also include seating for up to 112 people, including a joint-service operations team, Air Force flight crew, maintenance and security component, communications team and selected augmentees.
Is it completely nuclear-proof?
Contrary to the popular belief, while it may not be completely impervious to nuclear attacks, the plane is shielded from the effects of nuclear electromagnetic pulse (EMP)-a burst of electromagnetic radiation created by a nuclear explosion that can produce damaging current and voltage surges.
The aircraft is also touted to withstand the high temperatures inflicted by a nuclear blast.
Additionally, the E-4B also provides support to the Federal Emergency Management Agency, which provides communications and command centre capability to relief efforts following natural disasters, such as hurricanes and earthquakes.
When and where is it deployed?
The aircraft was originally stationed at Andrews Air Force Base in Maryland so that the U.S. president and secretary of defence could access them quickly in case of an emergency.
Whenever the US President travels outside of North America using Air Force One, an E-4B aircraft is routinely deployed to a second airport in the vicinity of the President's destination.
One E-4B is kept on alert at all times. The "cocked" or "on alert" E-4B is manned 24 hours a day with a watch crew on board guarding all communications systems awaiting a launch order.
This is simply in case of any emergency – nuclear or otherwise – that renders Air Force One unusable.
SOURCE(s)
COVER: media.defense.gov