One of the fastest long-haul aircraft in the world – VistaJet's "Ferrari of the skies" makes its debut
Ferrari in the skies? Yep, you heard that right!
VistaJet, the Middle-East based private aviation company, has recently welcomed a brand new "Global 7500", by Bombardier, to its fleet. This brings the company's overall fleet strength to 90, more than half of which are registered in the US.
Dubbed as the "Ferrari of the skies" by VistaJet, here's what makes it tick.
Global 7500 Bombardier
The Global 7500 aircraft stands alone as the world's largest and longest-range business jet.
Range
An industry-leading 7,700 nautical mile range connects some of the world's most expansive city pairings-including routes such as New York to Hong Kong and Singapore to San Francisco- made possible due to the G7500s debut and perhaps the first of its kind in private aviation.
Speed
Powered by specifically designed GE Passport engines, this "Ferrari" can clock speeds up to Mach 0.925 with dependable reliability and improved fuel efficiency.
With VistaJet, passengers can travel long-haul on the Global 7500 to 187 countries worldwide, unlocking access to 96 percent of the world and some of the most hard-to-reach areas in a single flight. It flies at a higher altitude (up to 51,000 feet) than commercial jets, where the air is thinner, thus allowing the aircraft to fly faster while burning less fuel

Éric Martel, Bombardier's president and CEO told Travel + Leisure
Cabin Interiors
Touted to be the industry's only business jet with four living spaces and a dedicated Crew Suite and kitchen while guests also have the option of personalizing interiors. The G7500 also features "Soleil"-aviation's first circadian rhythm-based lighting.
Avionics
Head-Up Display (HUD), Enhanced Vision System (EVS) and Synthetic Vision System (SVS)
Graphical flight planning
MultiScan weather radar including wind shear detection
Bombardier Vision flight deck with four large displays
Advanced fly-by-wire technology with side stick controllers
Specifications
| | |
| --- | --- |
| RANGE | 7,700 nm |
| CAPACITY | Up to 19 passengers |
| AIRFIELD PERFORMANCE (Take-off distance / Landing distance) | 5,760 ft / 2,237 ft |
| OPERATING ALTITUDE (Max) | 51,000 ft |
| ENGINES (GE Passport Thrust) | 18,920 lbf (84.16kN) |
| LENGTH | 111 ft |
| WINGSPAN | 104 ft |
| HEIGHT | 27 ft |
G7500 | Bombardier
GE Passport engines
Designed specifically for the Global 7500 business jet, GE's Passport is engineered for ultra-long-range missions and minimal cabin noise for increased comfort. Delivering over 18,000-pounds of thrust, with increased efficiency, lower emissions and reduced maintenance costs, the "Ferrari" and its engine make for a record-breaking combination.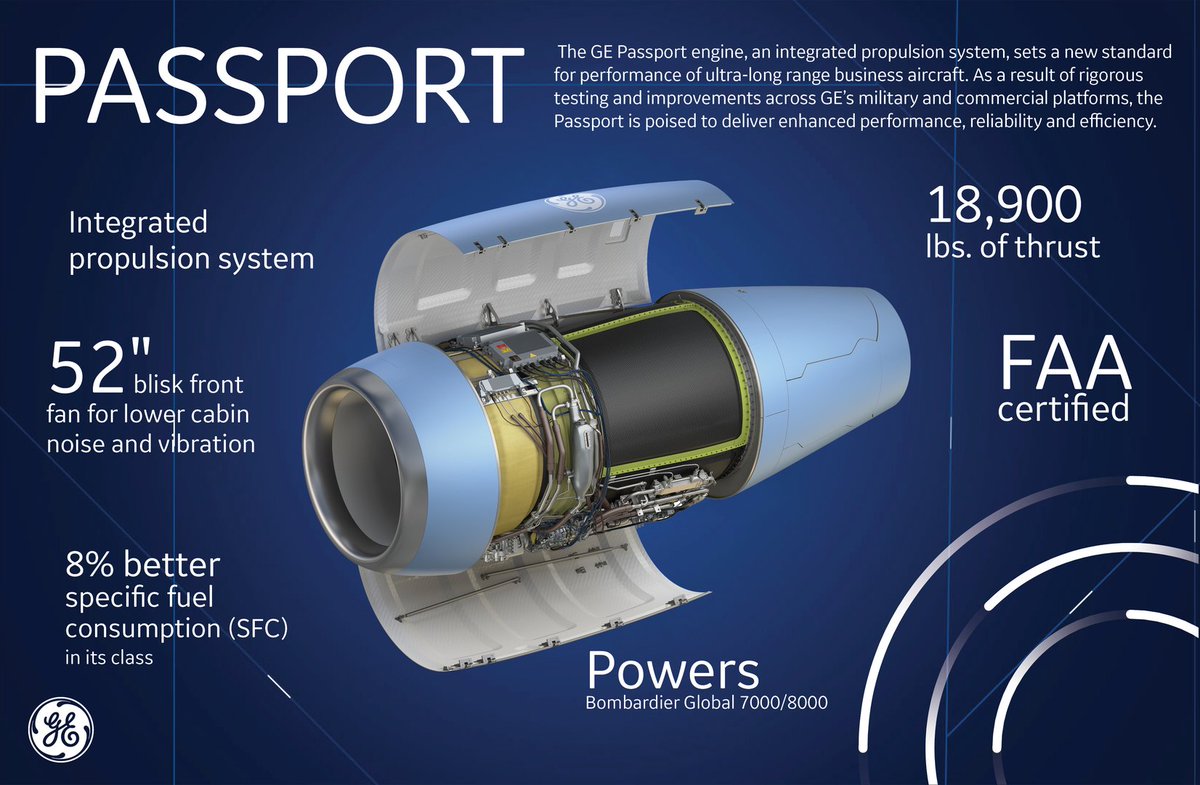 VistaJet offers custom-tailored flight subscription plans with access to its entire fleet at a fixed hourly rate as well as preferential rates on empty-leg flights.
VistaJet continues to expand its fleet globally, and now manages 10% of all the world's Global 7500 aircraft.
Did you know? VistaJet partners with the Scuderia Ferrari team for the fourth year running.
As an Official Partner, VistaJet is flying the team between races throughout the 2022 Formula 1 season. With often only days between Grands Prix, VistaJet will be flying across five continents to support Scuderia Ferrari in this truly global competition.
SOURCE(s)
COVER: Aviation Week